Dame Christabel Pankhurst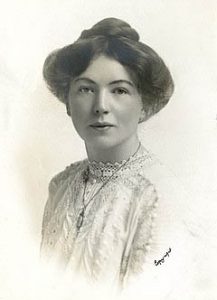 The Institute is named to celebrate the connection between the University and Dame Christabel Pankhurst, a driving force behind one of the most significant social reforms of the 20th century.
Christabel was brought up in Manchester, studied at the University and, in 1906, was awarded a first class law degree. She co-founded the Women's Social and Political Union and played a leading role in the suffragette movement.
In naming the Institute after her, the University wishes to honour a distinguished alumna and, by doing so, register its commitment to redress the under-representation of women and other groups in science and academic leadership though its equality, diversity and inclusion action plan.
The contribution of the Pankhurst family is also celebrated by the Sylvia Pankhurst Gender and Diversity Research Centre at Manchester Metropolitan University and the Pankhurst Centre, an iconic site of women's activism, past and present, based in the Pankhurst's house (1898-1907) on the Manchester Foundation Trust site.