Advanced materials
Our research on advanced materials in medicine, draws on strengths in physics, engineering, biology and health science.
The Institute delivers Advanced Materials in Medicine, which has more than 250 academics from across the University involved in our multidisciplinary Advanced Materials in Medicine network.
This broad base of researchers and 'intrapreneurs' allows us to conduct pioneering research that leads to the discovery of new advanced materials and innovative uses for them in health and care.
Our research is organised around four themes and a set of cross-cutting capabilities.
Bioelectronics
Working with novel materials, we move them towards components in complete devices which may sense physiological activity or provide electrical stimulation to cells or tissues.
This theme involves close collaboration with materials research to successfully interface electronics to materials used for sensing and actuation, with a particular focus on nano-chips, nanowires and nano-channels.
Applications are in personalised healthcare including: adaptive drug release, non-pharmacological, bioelectronic medicine (where nerves are stimulated directly), biosensor diagnostics and medical devices.
Biomaterials
We develop advanced biomaterials for a variety of applications including regenerative medicine, acellular approaches, biosensors and anti-viral technology.
Our particular strengths and areas of focus include stimulatory and degradable systems based on natural and synthetic polymers, magnesium alloys, bioactive glasses and sol-gel inorganic-organic hybrids, nanocomposites and peptide hydrogels.
We specialise in numerous production methodologies including additive manufacturing, 3D (bio)printing, nanofibre electrospinning and solution blow spinning, self-assembling peptide hydrogels, 3D cell culture biomimetic platforms, stem cell engineering and bioreactor design.
Nanomedicine
We aim to exploit novel nanomaterials and nanotechnologies, such as graphene and other 2D materials, in order to provide solutions to currently unmet clinical challenges in diagnosis, regenerative medicine, targeted drug delivery, and biosensors.
This draws on interdisciplinary strengths in biomedical and physical sciences, particularly the National Graphene Institute, providing a link to national and international expertise.
Tissue engineering
Regenerative medicine aims to repair, replace or regenerate damaged tissues, using cell, or gene therapy and tissue engineering.
We focus on specific instances of regenerative medicine which utilise advanced materials, such as the use of both rigid and soft tissue scaffolds for bone and cartilage regeneration.
This requires a multidisciplinary approach, bringing together biologists, material scientists, bioengineers and clinicians in order to translate basic biological research into viable clinical therapies.
Capabilities
Complementing these themes, we have cross-cutting capability in biocompatibility, imaging technology, new materials modelling, and scale-up and manufacture.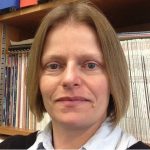 Theme Lead: Professor Julie Gough
Professor Gough is Professor of Biomaterials and Tissue Engineering at The University of Manchester. Her research interests are in tissue engineering of mechanically sensitive connective tissues such as bone, cartilage, skeletal muscle and the intervertebral disc, and nerve repair.
Theme Lead: Dr Stephen Richardson
Dr Stephen Richardson is Senior Lecturer in Cell and Tissue Engineering at The University of Manchester. His research focusses on use of multi-omic approaches to characterise cartilaginous cells/tissues (primarily intervertebral disc and meniscus) during development and disease, and application of 3D bioprinting to generate biomimetic tissue analogues to study tissue formation and test stem cell-based regenerative therapies.