Connect
We are keen to build a broadly-based community of practice around the Institute, because we recognise that will be essential to realising our vision.
We want to engage with individuals from companies, care providers, funders, charities, patient groups and from across the spectrum of academic disciplines.
We are also keen to engage with organisations to develop deeper relationships. If you would like to explore the possibilities, please email:
Newsletter
We send a monthly newsletter to our subscribers. These newsletters contain health technology related news, events, and funding opportunities relevant to academics, researchers, clinicians, health care experts, businesses, government, and the public. If you are interested, please subscribe using the link below and we will add you to our mailing list to receive a regular newsletter, plus notifications of events and collaboration opportunities.
The Christabel Pankhurst Building
The Christabel Pankhurst Building can be found on Dover St, just off Oxford Road on the Main University of Manchester campus.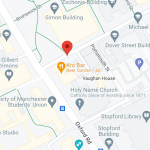 Christabel Pankhurst Building
The University of Manchester
Dover Street
Manchester
M13 9PS
Click here to view on Google Maps
Click here to view on the University of Manchester campus map (127)