Team Research Workshop in Albuquerque, New Mexico
Team Research Workshop in Albuquerque, New Mexico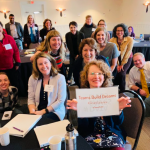 The wise words of Aristotle, 'the whole is greater than the sum of its parts', are particularly poignant when it comes to teamwork. When solving complex health-related challenges, scientific and research teams include many essential moving parts, including trainees, project managers, community partners, scientists from different disciplines, and more. So how do you organise the team, keep it centred, communicate effectively, and resolve conflicts?
On 25th March 2023, Ruth Norris, Jane Crosbie, and Nicola Telfer from the Team Research Operations Team (TROT)travelled to  New Mexico to participate in a two-day intensive workshop on how to better 'put the science of team science research into practice' and develop robust training programmes for our colleagues in Manchester.
Hotel Albuquerque was our home for our visit, and the workshop venue, amongst century-old adobe houses in Albuquerque Old Town. Hosted by the fantastic Divergent Science LLC, who root their customised, interactive and reflective training in Science of Team Science literature, the event brought together Principal Investigators (PI), project managers and researchers to share resources and experiences in an honest and supportive environment. Some key highlights of our learning are shared below.
Day 1: Followership, Team Visioning, Team Agreements
The best teams tend to have a continual rotation between leaders, followers, and observers; the first morning focussed on 'followership', or 'distributed leadership'. Although many projects have a named leader, or PI, providing opportunities for distributed leadership regardless of role creates effective teams who work together towards competency, solutions, and a positive impact. After identifying characteristics of followers, we reflected on the roles within our teams, and how practical changes in team expectations could impact the social network of the team.
As team expectations require making the implicit explicit, we next looked at the importance of team visioning, which can be done at any stage of a project. A co-created vision about what the team will achieve keeps a team focussed and productive, ensuring a collaborative agreement to the meaning and impact of the project. We learnt and tried out really useful and practical methods to create a team vision of an abstract business (selling hot sauce!).
The first day was rounded off developing customised team agreements. With the absence of team agreements being the number one reason teams fall apart, having templates for issues such as authorship, communication, and onboarding new projects, can proactively address conflicts and exercise inclusive practices into our teams.
Day 2: Creating Effective Teams and Navigating Team Conflict
According to Love et al. (2021), who is in your team matters less than how the team works together. So, in the morning of our second day, we learnt the processes and structures that matter for effective teams, such as psychological safety, dependability, roles and structures, meaning, impact and turn-taking. We then developed strategies to implement these, such as developing ground principles for meetings, teams etc. This was a fantastic and hugely applicable exercise which encourages a supportive space for the whole team to be more engaged, and highlighted the importance of making the implicit explicit for teams to work effectively.
The final module focussed on transforming conflict into creativity and innovation through appropriate engagement and communication in times of disagreement. Assumptions, expectations, feeling tired and weary, or underappreciated, are common sources of conflict within teams. As well as learning about important tools to mitigate conflict, such as team values, ground rules, and facilitators, we reflected on our own conflict styles and stressors, to realise the diversity in the room and the need for understanding.
Click here to watch a video of the event
What's next
This workshop was the perfect content at the perfect time to support and enhance Manchester's Team Research Initiative. The learnings the team is bringing back will be invaluable in informing our programme's approach and strategy. We are really looking forward to putting into practice all the tools, techniques and theory we learnt on this super-packed and super-stimulating expert-led event. Watch this space for plans for future training and development opportunities building on this workshop.
Get involved
To find out about events, information, funding, and to engage with the Manchester team research community signup here to the mailing list: http://listserv.manchester.ac.uk/cgi-bin/wa?A0=TEAM-RESEARCH
For general queries contact: Karon.Mee@manchester.ac.uk
Follow us on Twitter: @TeamsBuild
We are grateful to The University of Manchester for funding this activity as part of the Research England Enhancing Research Culture Programme
References
Love, H. B., Cross, J. E., Fosdick, B., Crooks, K. R., VandeWoude, S., & Fisher, E. R. (2021). Interpersonal relationships drive successful team science: an exemplary case-based study. Humanities and Social Sciences Communications, 8(1), 1–10. https://doi.org/10.1057/s41599-021-00789-8